Marks & Spencer was demoted from the FTSE100 in September.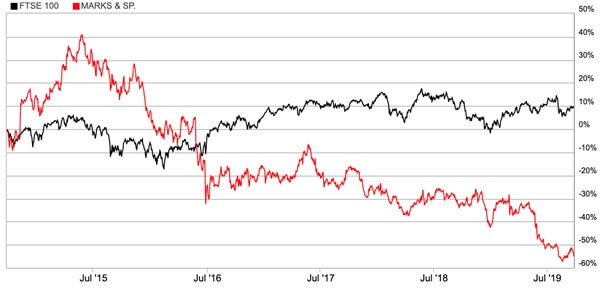 Source: London Stock Exchange
The FTSE100 is subject to a quarterly review of its 100 constituents. The process is not quite as simple as picking the 100 largest companies listed on the London Stock Exchange, but it's not far off. The latest review took effect on 23 September 2019 and received more attention than normal because it marked the ejection of one of the founder members of the index in 1984, Marks & Spencer (M&S).
The demotion – M&S is now a member of the FTSE250 – came as no surprise to market followers as the retailer had only just avoided the axe at the June review. As the graph highlights, over the last four years M&S has underperformed the index, with its latest decline prompted by the February 2019 announcement of a dividend cut and a rights issue to raise more capital.
M&S was one of three companies that left the FTSE100 in September – the others were Direct Line and Micro Focus. Its departure means that just over 25% of the FTSE100's original members remain. Over 300 companies have entered or exited the FTSE100 since 1984, sometimes on an almost revolving basis.
The index itself has changed considerably over the years, often as the result of takeovers and mergers. But the landscape has shifted too. At its launch, the index's two largest sectors in terms of company numbers were financials (banks and insurers) and industrials. The financial sector remains the biggest, but unsurprisingly the representation of industrials has shrunk.
Consumer services now match financials for the number of companies in the index. The sector included M&S, but after its exit only four of the original fifteen FTSE 100 consumer services constituents are still index members (Sainsbury's, Tesco, Whitbread and Pearson).
The gradual decline of M&S, which has been evident for some years, echoes many similar events over the years – British Home Stores was also once a member of the FTSE100. It is a reminder that as a long-term strategy, buying and holding 'blue chip' shares carries risks. The world changes: if your investments stand still, they may be left behind.
The value of your investment can go down as well as up and you may not get back the full amount you invested. Past performance is not a reliable indicator of future performance.  Investing in shares should be regarded as a long-term investment and should fit in with your overall attitude to risk and financial circumstances.
Content correct at time of writing and is intended for general information only and should not be construed as advice.