National Savings rate to drop sharply from 24 November.
At times, National Savings & Investments (NS&I) looks like a relic. Its role in raising money for the government has seemed an increasing anachronism for three main reasons:
The amount NS&I raises each year is but a small part of the government's total borrowing. For 2020/21, NS&I's fundraising target is £35 billon (± £5 billion), but on current estimates, the government will need to borrow more than ten times as much.
Rather than selling NS&I products, the government can raise billions by selling government bonds (gilts) with much less administration at significantly lower interest rates. At the time of writing, gilt yields were negative for terms of up to six years.
On the rare occasions when NS&I rates are competitive, it can distort the savings market, prompting criticism from the building societies and banks with which it competes for retail deposits.
In mid-February, NS&I announced that it would be cutting interest rates across a range of plans from 1 May. Two months later, NS&I changed its mind and announced in a press release under the headline "NS&I supports savers in this unprecedented time", that it was dropping the planned changes to variable rate products. All then went quiet, leaving NS&I with a range of league-topping interest rates. Between April and June, nearly £20 billion flowed into its coffers.
On 21 September, NS&I had a change of heart, deciding that reductions were necessary to "ensure NS&I's interest rates are aligned appropriately against those of competitors". The cuts, which generally take effect from 24 November, were dramatic, as the table shows.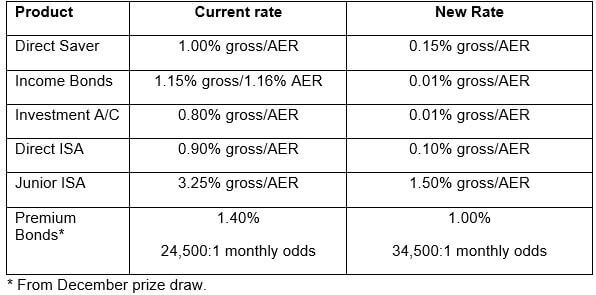 Such microscopic rates will take NS&I to the bottom of the league tables. If your income will be hurt by the NS&I cuts, make sure you consider all of the options before moving your money. With the best available rate just 1.6% – for a five-year bond – at the time of writing, now could be the time to talk to us about your income options beyond deposit investments.
The value of your investment and income from it can go down as well as up and you may not get back the full amount you invested.
Past performance is not a reliable indicator of future performance.
Investing in shares should be regarded as a long-term investment and should fit in with your overall attitude to risk and financial circumstances.
Content correct at the time of writing and is intended for general information only and should not be construed as advice.