The latest pandemic support measures are much less generous than before.
As the country braced for dealing with further localized outbreaks of Covid-19, the Chancellor made an early autumn appearance before the House of Commons to announce his 'Winter Economy Plan'. He announced new employment support and amendments to existing schemes.
Job Support Scheme (JSS)
The JSS is the next stage of the furlough scheme (strictly the Coronavirus Job Retention Scheme (CJRS)), which comes to an end on 31 October. The JSS, which will run until 30 April 2021, is aimed primarily at small and medium-sized employers and will only apply to employees who work at least one third of their normal hours. For the hours that are not worked, the government and the employer will each pay one third of lost pay. The net results in terms of employee income and employer cost are shown in the table.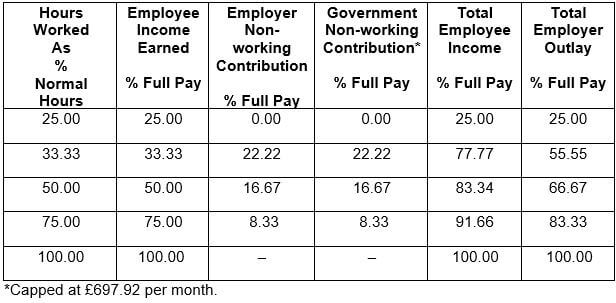 Payments under the JSS will not affect an employer's entitlement to the £1,000 Job Retention Bonus.
On 9 October, the government announced an expansion of the JSS, to provide temporary support to businesses whose premises have been legally required to close as a direct result of coronavirus restrictions.
Under this expansion, affected businesses will receive grants towards the wages of employees who have been instructed to and cease work. This will cover businesses that, as a result of restrictions set by one or more of the four Governments of the UK, are legally required to close their premises, or to provide only delivery and collection services from their premises.
The government will pay two thirds of employees' usual wages, up to a maximum of £2,100 per month. Employers will not be required to contribute towards wages, but do need to cover employer National Insurance and pension contributions.
Self-Employed Income Support Scheme (SEISS)
The existing scheme has been restructured and extended to April 2021. Only those already eligible will be entitled to claim. The first grant, covering the three months to 31 January 2021, will cover 20% of average monthly trading profits and is capped at £1,875. The terms of the grant for the next three months will be set 'in due course'.
Both the JSS and revised SEISS are considerably less generous than the existing CJRS and SEISS, which have so far (to 20 September) cost the Treasury over £52 billion. This cut to support is understandable from the government's financial viewpoint, but it is also a reminder of the importance that your personal financial planning makes provision for an adequate cash reserve.
Content correct at the time of writing and is intended for general information only and should not be construed as advice.