We could see a jump in inflation soon.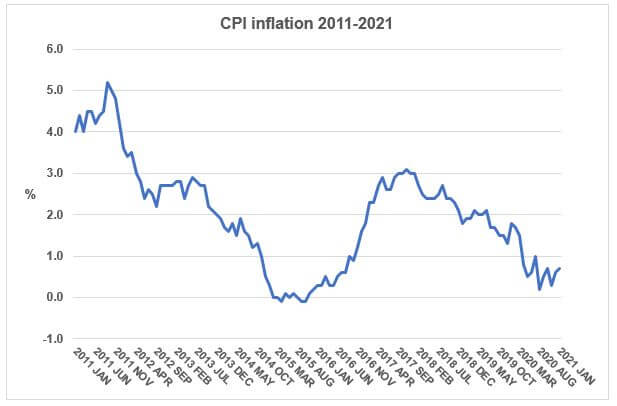 The pandemic has posed problems for the Office for National Statistics (ONS) when it comes to calculating the rate of inflation. For example:
How do you measure the price of an item or service when a lockdown means it is not for sale? Two good examples are the 'Restaurants and hotels' category, which in 2020 took up almost 12% of the Consumer Prices Index (CPI) and the 'Package holidays' subgroup of the 'Recreation and culture' category which had a 4.2% weighting in the Index. In February 2021, the ONS said that in the previous month it had managed to collect only 88% of the prices it had collected before the first lockdown.
Are the right items and services being measured? All inflation indices measure the prices of a 'basket' of goods and services. The ONS reviews and amends that basket each year to reflect changing spending patterns. This is often a source of humorous headlines, such as the replacement of crumpets by individual fruit pies last year.
The new 'basket' for 2021 would normally have been based on expenditure in 2019. However, that was in the pre-pandemic era and spending patterns changed in 2020, as we all know. The ONS has therefore created a special 2021 'basket' that uses data from both 2019 and, where there have been significant changes, 2020. As a result, the weighting for 'Restaurants and hotels' and 'Recreation and culture' have both fallen while those for 'Food and non-alcoholic beverages' and 'Alcoholic beverages and tobacco' have risen. Eating and drinking in is the new dining out…
Annual inflation over the last ten years to January 2021 has averaged 1.8%, as measured by the CPI, which means overall prices have increased by almost a fifth since 2011 – bad news for anyone with a fixed income.
Although 2021 started with annual inflation of 0.7%, by May the figure is likely to be nearer to 2% as a result of price rises already built in. These include the 9.2% rise in capped gas and electricity bills and council tax increases of up to 5%.
For all the problems of pandemic measurement, inflation is still out there and needs to be built into your financial plans.
Content correct at the time of writing and is intended for general information only and should not be construed as advice.