Cryptocurrencies are regularly in the headlines and growing in popularity, but are they really investments?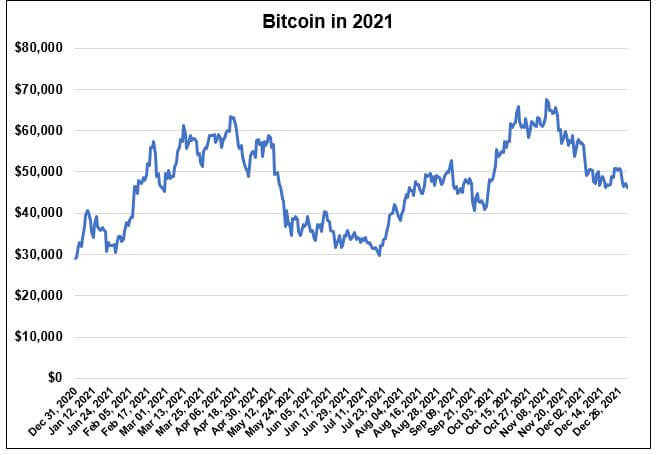 Source: Investing.com
Cryptocurrencies, of which Bitcoin is the most famous (or notorious, depending on your viewpoint), are not currencies in any practical sense of the word. Think of the pound in your pocket:
It has the backing of a state-owned central bank;
Its value is stable, give or take the longer-term impact of inflation; and
It can be easily used in any financial transaction as a method of payment.
According to the Financial Conduct Authority (FCA), in the UK, 2.3 million people own some form of cryptocurrency, with an average holding of about £300 – meaning that cryptocurrencies account for about 0.1% of UK household wealth. Other research shows ownership to be concentrated largely among Generation Z – 45% of 18–29-year-olds have placed some money in cryptocurrencies and half of those have gone into debt doing so. However, 10% of cryptocurrency holders in the UK are over 55, with potential inheritance tax and legacy issues for their estates.
Many of these new investors may believe these virtual currencies are socially as well as personally beneficial. But with the huge amounts of energy required in cryptocurrency mining just one area of controversy, they may not be simply a benign option for those seeking to sidestep traditional investing.
HMRC has recently entered the fray, seeking to contact holders of crypto assets to remind them that they would owe tax on any profit from disposal of cryptocurrencies, whether from sale, exchange or where used for goods or services in the limited areas available.
Some cryptocurrencies called stablecoins, such as Tether, aim to have a fixed value (often linked, ironically, to a traditional currency). However, most cryptocurrencies have anything but a stable value, as none have central bank backing and it can be difficult or near impossible to buy anything with them.
Despite these factors the cryptocurrency market has grown at a breakneck pace: over the last five years to November 2021, its value has increased from USD $16 billion to USD $2,600 billion.
The FCA does not directly regulate cryptocurrencies. However, UK cryptocurrency businesses are required to register with the FCA and comply with money laundering rules. The regulator makes clear in its consumer guidance (see fca.org.uk/consumers/cryptoassets) that:
Cryptocurrencies are regarded as "very high risk, speculative investments";
Purchasers are unlikely to be covered by the main investor protection schemes; and
If you choose cryptocurrencies, "you should be prepared to lose all your money".
Scams, particularly using social media and involving offshore companies, are another high risk of the cryptocurrency market. One international scheme, the subject of an in-depth podcast investigation, operated in over 175 countries to the tune of $4 billion but turned out to be a complex scam with the founder still apparently unaccounted for.
As the Bitcoin graph shows, it is possible to make – and lose – large amounts in cryptocurrencies. With the development and growing popularity of app platforms making 'trading' and tracking more accessible and convenient, you may be tempted to join in. But be warned – other, less exotic, and better regulated investments could well be a wiser choice.
The value of your investment and any income from it can go down as well as up and you may not get back the full amount you invested. Past performance is not a reliable indicator of future performance.
The value of tax reliefs depends on your individual circumstances. Tax laws can change.
The Financial Conduct Authority does not regulate tax advice.
Content correct at the time of writing and is intended for general information only and should not be construed as advice.