As inflation hits a 30-year high in the UK, double-digit price increases could be on the horizon.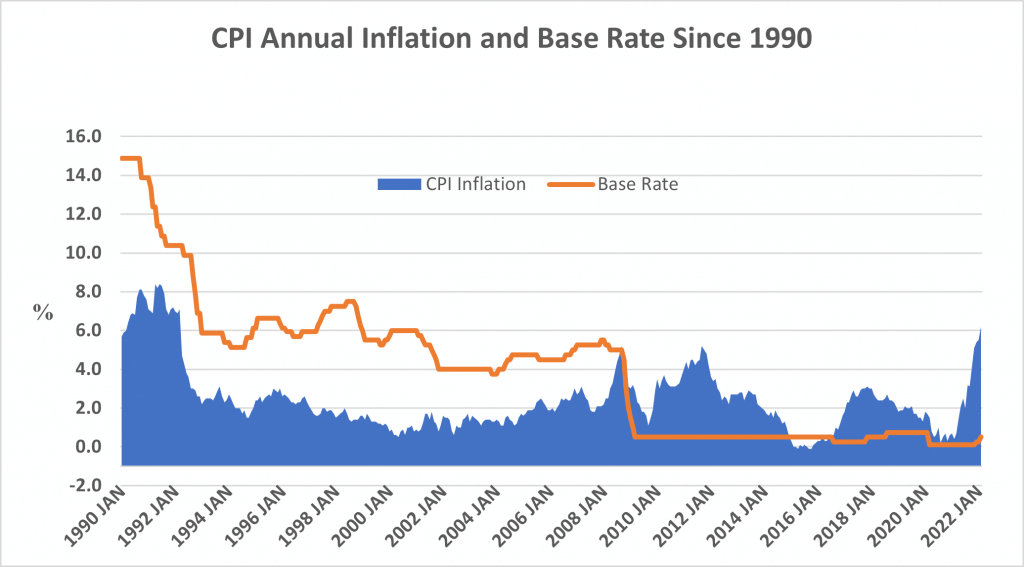 At the start of 2021, inflation measured by the CPI yardstick, was running at a benign 0.7%, having been driven down by the impact of the pandemic. A year later, the rate had jumped to 5.5%, close to triple the Bank of England's official target of 2%. It will not be stopping anywhere near there:
In mid-March, the Bank of England said, "Inflation is expected to increase further in coming months, to around 8% in 2022 Q2, and perhaps even higher later this year."
Later in the same month, the Office for Budget Responsibility (OBR) in its Economic and Fiscal Forecast went further: "If wholesale energy prices remain as high as markets expect, energy bills are set to rise around another 40 per cent in October, pushing inflation to a 40-year high of 8.7 % in the fourth quarter of 2022."
With the old Retail Prices Index currently running at around 2% above the CPI, it is possible headlines about double digit inflation will be appearing before the end of the year.
As the OBR suggests, one of the main drivers of high inflation is the surge in energy prices, which was exacerbated by the Russian invasion of Ukraine. However, other commodity prices are on the rise and hospitality prices have had to reflect an April VAT rise from 12.5% to 20%. The worry for the Bank of England is that price increases will feed through to wage demands, producing self-feeding inflationary spiral.
So far, the Bank of England has raised interest rates in 0.25% steps. Its ability to increase rates is constrained by the weak growth prospects for the UK economy, which could be tipped into a recession if rates reverted to those before 2008, yet alone in the early 1990s, the last time inflation was as high.
The corollary is that for the time being, deposits will continue to see their buying power eroded, whether or not interest is accumulated. If you have more than your rainy-day reserve sitting in cash, you need to have a very good reason or, better still, a discussion with your investment adviser.
The value of your investment and any income from it can go down as well as up and you may not get back the full amount you invested.
Past performance is not a reliable indicator of future performance.
Investing in shares should be regarded as a long-term investment and should fit in with your overall attitude to risk and financial circumstances.
Content correct at the time of writing and is intended for general information only and should not be construed as advice.