The latest data from the Office for National Statistics (ONS) reveals that more people than ever are working beyond age 65.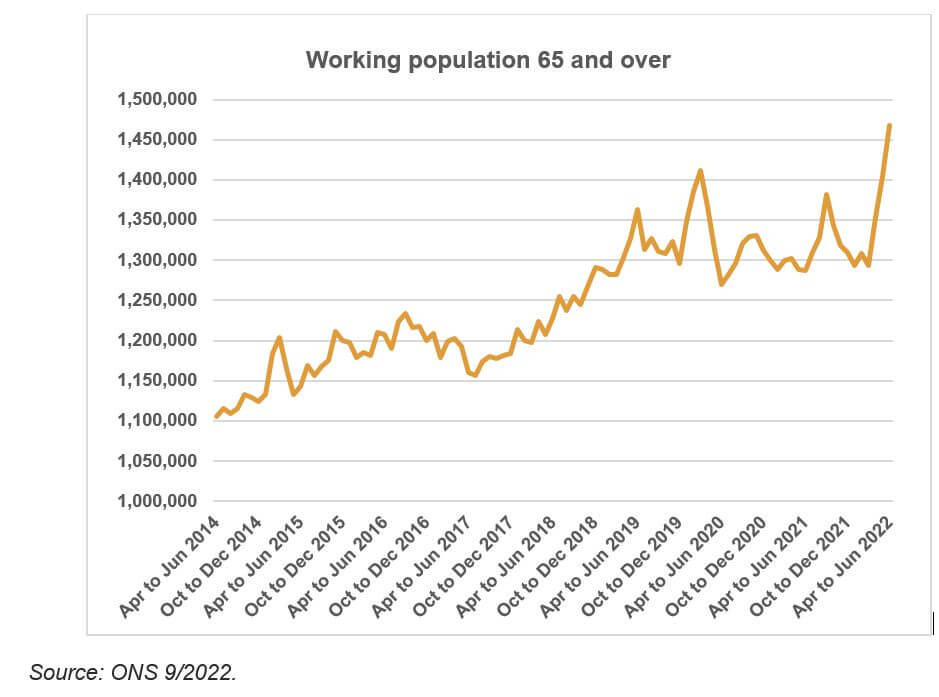 One of the stranger economic statistics of recent times has been the strength of employment markets on both sides of the Atlantic. For all the talk of an impending recession and the upward march of interest rates, employment has remained buoyant in both the UK and the US. The unemployment rate in both countries is under 4.0%, which is about as close to full employment as can be reached. The latest estimate for the UK is that unemployment numbers are 42,000 less than job vacancies, whereas in the US, job openings are double the unemployed numbers.
A notable feature of the UK employment market has been the increase in the population aged 65 and over who are in work. The latest data from the ONS – covering the period April to June 2022 – showed both a record quarterly increase and a record total of close to 1.5 million, of whom nearly three quarters were employed. Viewed another way, 15.5% of men and 9.2% of women aged 65 and over were in work during this period.
The longer-term ONS figures show that over the last ten years, while overall employment has risen by about a tenth, employment among those aged 65 and over is up by a little over a half. These senior workers are not labouring all week, but they are, on average, putting in nearly 22 hours. The recent joiners of the 65-and-over workforce are predominantly part-timers, both employed and self-employed, according to the ONS.
What the ONS statistics do not reveal is why employment is growing so rapidly in this sector of the population. There is a clue in the fact that, to quote the ONS, "The industries where informal employment is more common, such as hospitality and arts, entertainment and recreation, saw some of the largest increases."
The combination of sharply rising inflation and the increase in state pension age to 66 is likely to be forcing some former retirees back into work to make ends meet. It does not help that the April 2022 increase in the state pension was 3.1%, less than a third the current (August) rate of CPI inflation.
If the idea of joining that growing band of those still working at 65 and over does not appeal, then make sure your retirement planning provides you with enough income when you need it.
The value of pensions and investments and the income they produce can fall as well as rise. You may get back less than you invested.
Past performance is not a reliable indicator of future performance.
Content correct at the time of writing and is intended for general information only and should not be construed as advice.