In 2022, most of the world's major share indices had their worst year since 2008, but the UK's FTSE 100 was a star performer.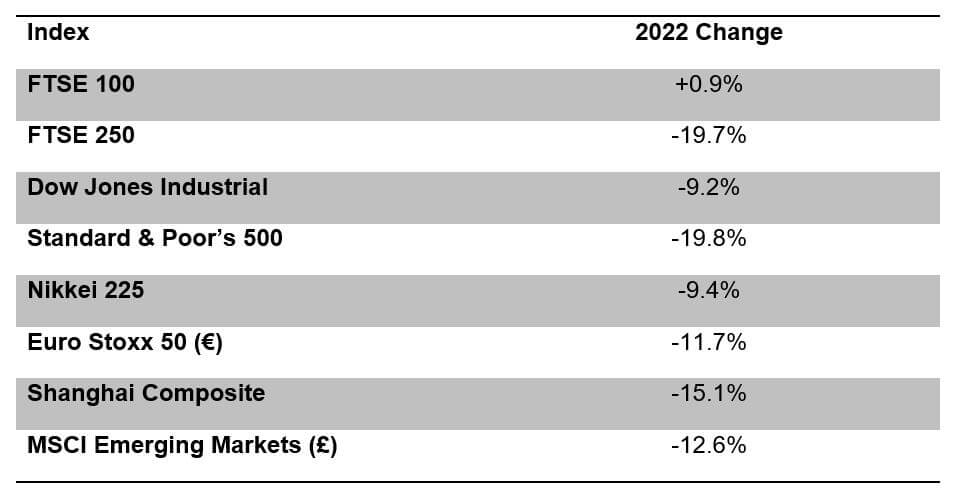 Yes, the table is correct. In the year of three Prime Ministers, four Chancellors, a catastrophic 'mini-Budget' and double-digit inflation, the UK stock market was one of the world's best major market performers, eking out a small gain where most others recorded a loss. The MSCI All Country World Index – a good benchmark for Global plc – fell by 9.7% in sterling terms.
Inevitably, such a surprise result from the UK comes with some important qualifications:
The yardstick that shows the UK posting a positive return is the FTSE 100, which only covers the largest 100 UK listed companies. Look at the broadest UK index, the FTSE All-Share, and there was a loss of 3.2%.
While the FTSE 100 is an index of companies listed on the London Stock Exchange, it is far from a snapshot of UK plc. About 14% of the index is accounted for by three energy companies – Shell alone accounts for over 9%. The basic resources sector provides just over 9%, albeit its constituents do not have their mines in the UK.
The 250 mid-sized companies that form the FTSE 250 and sit below the FTSE 100 are closer to what most people would consider UK plc. As the table shows, this group had a tough 2022 – just what might be expected given the state of the UK economy.
While the FTSE 100 outperformed the US and Eurozone, the gap is not so wide when currency performance is considered. Sterling fell 11.2% against the US dollar and 5.4% against the euro.
On the plus side, if you had re-invested all the FTSE 100 dividends over the year, your return would have been 4.7%, a reminder that the UK stock market remains a good source of income.
The UK's winning streak in 2022 – at least in FTSE 100 terms – does not mean you should now ignore investment diversification. After all, the FTSE 100 was way behind the best performing global market of the year. That title, with a jump of over 100% in sterling terms, belonged to a country with over 80% inflation – Turkey.
The value of your investment and any other income from it can go down as well as up and you may not get back the full amount you invested.
Past performance is not a reliable indicator of future performance.
Investing in shares should be regarded as a long-term investment and should fit in with your overall attitude to risk and financial circumstances.
Content is correct at the time of writing and is intended for general information only and should not be construed as advice.