An announcement in late May will herald a fall in gas and electricity bills from July.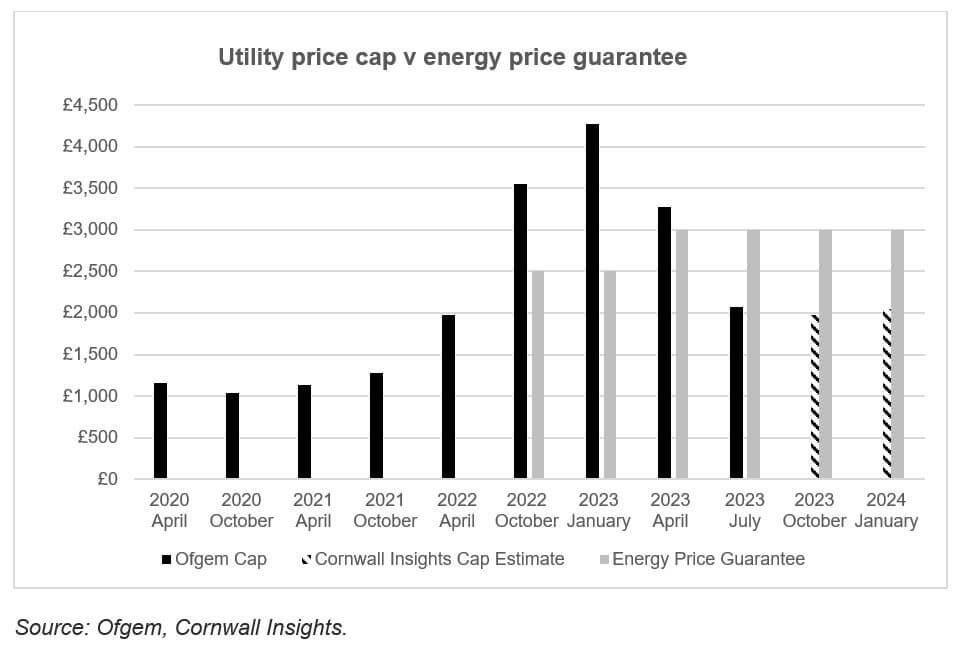 Remember the Ofgem price cap?
A little over a year ago it was the headline grabber, with the news that the so-called utility price cap set by Ofgem would be rising in April 2022 from £1,277 a year to £1,971 – a 54% increase. The price leap prompted a flurry of government measures, including £150 council tax rebates, followed by a universal £400 payment and the introduction of an Energy Price Guarantee (EPG).
It was all somewhat bewildering, especially as the cap (and the EPG) were not limits on total household energy costs, but merely a regionally based ceiling on the standing and unit charges that suppliers could levy. In the March 2023 Budget, the Chancellor added a further twist by deferring a £500 increase in the EPG to £3,000 from April to July 2023.
Since last October, the EPG has been lower than the Ofgem price cap, meaning the Ofgem measure lost its consumer relevance. However, it has mattered to the government, which has been forced to meet the significant cost difference between the two. From July, the situation changes.
On 25 May, Ofgem announced that its new price cap for the three months from 1 July will be £2,074, 32% less than its April – June figure. Consequently, the EPG is the figure that will now become irrelevant – the consumer will pay less thanks to the new Ofgem price cap and the government will be off the hook for subsidising domestic bills.
On current estimates from Cornwall Insights, the next two iterations of Ofgem price caps (October – December 2023 and January – March 2024) will be close to the July quarter and well below the EPG. Thereafter, the EPG disappears, leaving the Ofgem cap the sole price arbiter.
The July switchback to Ofgem may encourage some providers to offer fixed rate deals – at present over 90% of domestic users are on the standard variable tariff, which not so long ago was considered the worst deal. As with many other financial decisions, you may find yourself wondering how much you are prepared to pay for certainty (such as a two-year fix) over the uncertainty (variable rates) that might deliver lower – or higher – costs.
The contents of this article are for information purposes only and do not constitute individual advice.