In April, UK inflation reached a level not seen since the early 1980s – many people's entire adult lives.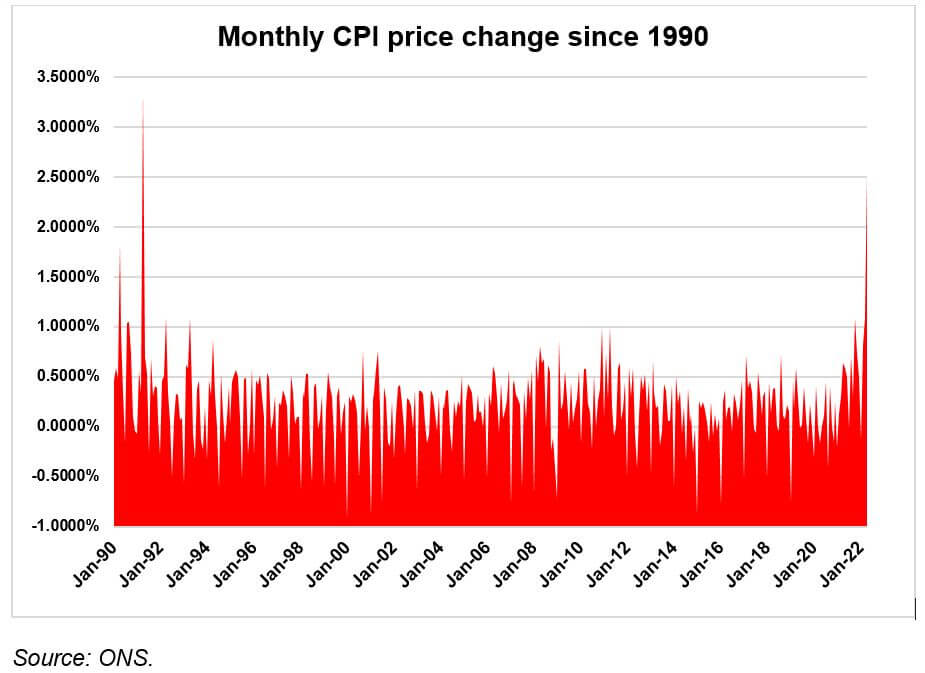 UK inflation was widely expected to jump in April as the new Ofgem utility price cap took effect. Nevertheless, when the April annual CPI rate of 9.0% was announced in mid-May, it dominated the headlines. In all the shock-horror coverage, some additional context was generally missed:
Prices rose by 2.5% between March 2022 and April 2022 – more than they had risen in the entire year to April 2021. Study the graph and you will see there was one month to beat that April 2022 for price rises – April 1991 after the standard rate of VAT rose from 15% to 17.5%.
Two energy-linked sectors – Housing and Household Services (which includes utility bills) and Transport – accounted for about half of the overall inflation rate. There is nothing the Chancellor or Bank of England can do about global energy prices.
In April, 'core inflation', which strips out energy, food, alcohol and tobacco prices, was running at 6.2%. In April 2021, the same measure was running at 0.7%. That gives a good indication of how broadly prices have increased.
The rate of monthly CPI increases started to pick up from April last year, so the next few months will probably see little change in the annual inflation rate.
All other things being equal – a dangerous assumption – the next step up in inflation will be in the October rate, due out in November, around the likely time of the Autumn Budget. The reason for the increase will again be a change in the Ofgem price cap. In October 2021, the cap's increase was 12%. It means households could see their energy bills rise in October to £2,800 a year from the current cap of £1,971. At the same time, the Bank of England is forecasting that the inflation will peak at "slightly over 10%" in the final quarter of 2022.
Europe and the US are experiencing similar inflationary spikes, although at the time of writing the UK was, unfortunately, in the lead. The one solace is that the Bank of England says, "CPI inflation is projected to fall to a little above the 2% target in two years' time."
Content correct at the time of writing and is intended for general information only and should not be construed as advice.